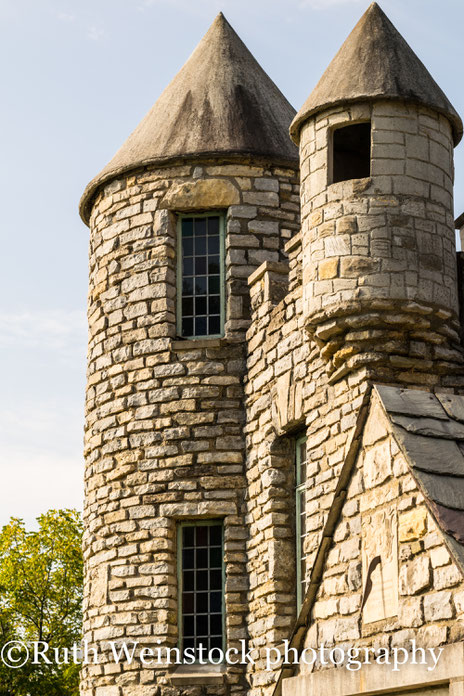 If you're struggling between wedding venue ideas and cant decide between rustic boho, lord of the rings scenery or having somewhere safe inside to make sure you don't get rained out. I might have found just the place, oh and did I mention it has a castle?
I'm a huge fan of old houses and historical gardens, coming from across the pond we have pretty spectacular ones too. So I was more than delighted to fall on this gem in our very own Louisville, Kentucky,
From the moment you walk through the cute entrance/shop with adorable keepsakes and local made crafts the magic begins. Once past an array of gift and fountains available for purchase the path leads directly to a rustic little seating area, its nestled in a fairy dell clearing of the trees and plants. My first thought was what a beautiful spot for some pictures.
Rounding the corner brings you between the main houses, built circa 1950's, they have the old world athletic appeals and would make fantastic backdrops to your wedding pics, the gray stone building with the turret (the castle) is however an absolute must and in my opinion the highlight of the garden. As it sits on a higher level than the meadow, a shot from the level below looking up to the couple with the turret behind would give a real Cinderella prince charming feel or a nice dramatic pose depending on edit style. If secret garden princess is more your style a lawn shot viewed from the undergrowth would nail it.
Within a stones throw of this spot are 3 separate gardens in various styles, a walled garden and pond with a manicured and vintage style would fit the secret garden princess, vintage chic goddess or simply provide sweeping lines with colorful flower accents for your wedding pics. If you fancy something very different the sunken garden offers an alpine feel with rocky course vegetation covered in succulents, the light quality here is shady and could give some dramatic and stylish pics for the adventurous bride. Dropping down a level to the meadow below we have whats called the overlook garden, full of wild and wonderful looking plants, some varieties not on the market yet to satisfy the botanical enthusiast or hippie boho brides.
The site is 33 acres, its certainly got a lot of room for a large wedding and plenty of places for guests to disappear off and have some of their own time if you're planning a long celebration, this review could also go on for pages if I covered everything in detail, so I'm trying to keep it as brief as possible but cover all the bases.
As you continue to walk through the grounds there are multiple stops for pictures in front of cute fountains, lamps, incredible plants like something out of Jurassic park or an old stone seat unearthed from the vegetation very recently. And of course the dramatic view down the Holly alley of tress must be on your pic hit list in this venue, its quite unusual and spectacular. If some of your guests are on the younger side, there is a fairy garden with little houses that would make some beautiful portraits. If you had some creative tendencies some fairies on wire sticks would make some fantastic portraits (see Cottingley fairies for ideas).
If you wanted something more open air for the ceremony, the arboretum offers many varieties of trees for a natural setting on grass and gives lots of fun and creative shapes and colors to choose from for your pics if your going for woodland fairy or earth soul style pictures.
Plan B here is also fantastic, 3 buildings offer cover if the rain should hit, the main pavilion which is sizable will hold most wedding parties and sits below a garden with a sweeping path and stairs for an amazing entrance to your wedding dinner celebrations. The second pavilion offers a terrace overlooking the meadow and rock garden which links to the vaulted ceiling barn, if you wanted your ceremony indoors or a more church like intimate appeal.
Sweeping paths with quaint distinct buildings dotted all around this garden make it in my opinion a photographers dream wedding location, there is something for everyone here and plenty for guests to enjoy while you celebrate. Also after having my own wedding rained out, plan B is something every bride should take into serious consideration and Id say Yew dell offers various solutions for a raining wedding day should that need arise.
If you want me to review a venue you're interested at no cost, send me a mail!